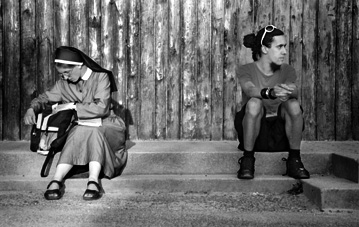 Exhibitions

2005. "Venezuela, Poesía Visual", solo exhibition, TIS, Madrid
2006. Group exhibition, Laboratorio 3, Madrid
2008. Solo exhibition, Bálanda, Madrid
2009. Exhibition selected contest Jorge Manrique, Church of the Jesuits, Segura de la Sierra
2009. Enfoca la Sierra. Itinerant exhibition, Jaén
2012. MAE. Exhibition of emerging art city of Córdoba
2012. Casa del Arte Gallery. Zürich
2012. "Ex-presión", Solo exhibition. Magic Box. Zürich
2012. Hispano-Suiza. Group exhibition. Sihlquai55 Offspace. Zürich
2013. Hispano-Suiza. Group exhibition. Centro Cultural Galileo. Madrid
2017. Impares. Sala Juana Francés. Ayuntamiento de Madrid. Group exhibitioin. Madrid.
2017. Biblioteca Viva de Al-Andalus. Palacio del Bailío. Córdoba.
2020. "Sombras", solo exhibition. Spanish Consulate in Zürich

Awards

2007: 1St prize, group Konecta, Madrid
2009: 2Nd Prize, V Jornadas Jorge Manrique, Segura de la Sierra

___
Luis Lumbreras was born in 1969 in Arroyo del Ojanco (Jaén, Spain), into a family where photography, film and music are his professional activities, so that he begins to generate links with art at an early age, highlighting since childhood in the plastic arts and being present from a very young age in the development and process of photographic work.

Self-taught, some of his influences are, in addition to painting, artists such as Cristina García Rodero, Chema Madoz, Robert Mapplethorpe, Roger Ballen, Ouka Leele or Diane Arbus, among others.

Throughout these years he has created a diverse collection of works, which show the gaze, almost like a child, whose emotional schemes are based and structured on the culture of a remote and rural village and which tries to adapt to a reality changing, often conflicting values. His work, transgressive and poetic, is closely linked to symbolism, the conceptual, the metaphorical and the figurative, with some excellent portraits. They are scenes of bleak beauty that rarely leave us indifferent, that put us after all in our own shadow.

Luis is a member of Chandra, a platform from which music, photography, dance and theater projects are developed and through which he has participated in festivals such as Contemporary Scene or the La Alternativa Festival in Madrid in very diverse projects.